Click here if you are having trouble viewing this message.
We Celebrate César Chávez
Today we celebrate César Chávez Day. A civil rights leader, César Chávez dedicated his life to farm workers' rights, and his legacy lives on. We stand with farm workers in calling for support of #AB2183, a bill that would give them a fair shot at fair union elections. The fight for equity for farm workers continues today. To show your support, go to: www.ufw.org/2022.
Salary Study Report Coming Soon
CSU Asks Legislature for Additional Funding to Support Students, Faculty and Staff
The CSU is requesting $381 million in ongoing funding to support University priorities which are to provide fair and competitive salaries for faculty and staff and to reduce student equity gaps. The University is also seeking an additional $900 million in one-time funding to meet the growing infrastructure needs of campuses.
"The University has several budgetary needs ... The most pressing priority is to ensure the fair and equitable compensation of faculty and staff," Ryan Storm, CSU Assistant Vice Chancellor for Budget, said at this week's Assembly Budget Subcommittee On Education Finance. "Salaries have been stagnant for two years and the recent inflationary pressures makes compensation improvements even more important today."
Noting that a salary structure study is nearly complete, Ryan said, "We look forward to reviewing those recommendations working toward common ground with our labor partners on them and coming back to the Legislature and Governor on potential costs and potential funding proposals."
 
Bargaining Team Speaks Up on Vital Issues Affecting Students and Staff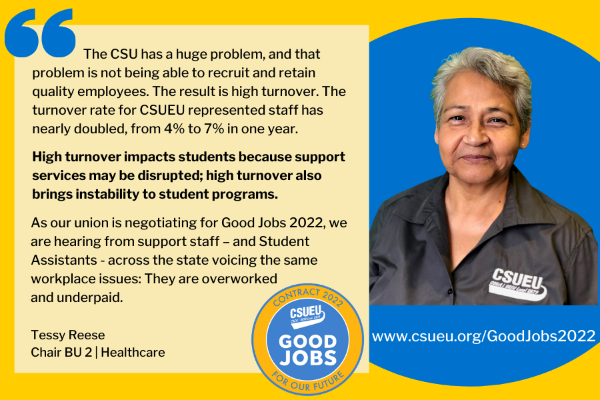 View more remarks by the Bargaining Team at the Board of Trustees' meeting on March 22, 2022.
In Appreciation: Kim Harrington
As CSUEU Legislative Committee Chair, Kim Harrington fearlessly led the campaign to reform the CSU broken salary structure, on behalf of CSUEU's 16,000 Support Staff. Kim also served as Chapter President at CSU Sacramento, where she worked as an Administrative Analyst Specialist in Human Resources. Kim passed away on March 14.
Vicky McLeod, Chapter President at Fullerton and current Chair of the Legislative Committee, worked closely with Kim during their years on the committee.
In memory of Kim and to honor her contributions to the Union, Vicky contributes an "In Appreciation" article.
Union Updates:
Mandatory Booster Vaccination & Supplement Paid Sick Leave 
CSUEU and the CSU have reached agreement regarding mandatory COVID-19 booster shot and supplemental paid sick leave for employees.

The CSU vaccination policy is now updated to define fully vaccinated as including mandatory booster shot.

Similar to requirements our Bargaining Team negotiated in 2021 for the initial mandatory vaccination policy, protections remain in place with regards to no discipline, and language for religious and medical exemptions. 

There is agreement to negotiate if there are additional mandates from the county health departments, state or federal government.
Both parties also reached an agreement regarding SB 114 signed by Governor Newsom allocating 80 hours of COVID-19 Supplemental Paid Sick Leave effective January 2022 through December 31, 2022.
We try to get important union updates out via eNews like this. But if you like cute pictures*, check out CSUEU's social media channels where more content is posted regularly:
Facebook, Instagram and Twitter.
And if you know someone who is not getting union news, please send them here:
www.csueu.org/connect to subscribe for email and text.
*Future union members help host "Good Jobs and Pizza" at CSUEU San Marcos Chapter this week. Win-Win!
CSUEU | 120 K Street, 2nd Floor, Sacramento, CA 95814