Click here if you are having trouble viewing this message.

Members Pack Town Halls to Learn More About Salary Study Findings
This week's five town halls drew packed crowds with CSUEU members eager to get a preview of a report on the CSU compensation program for non-faculty staff.
The salary study was a collaboration among our Union, Teamsters 2010, and the CSU, as well as other labor groups.
The report, due to the state Legislature by the end of April, determined that the CSU's wage structure issues can be addressed through a $288 million budget augmentation. When finalized, the report, along with Frequently Asked Questions, will be posted at www.csueu.org/advocacy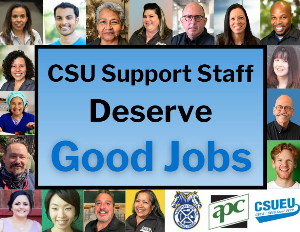 Get ready to mobilize and activate the #FundOurFuture with #GoodJobs campaign in May.
WHAT'S NEXT:
In May, we will launch a postcard and email blitz to reach Gov. Gavin Newsom and every state legislator. We need state funding in order for the CSU to reform its salary structure to better retain and develop Support Staff who are essential to student success. Get ready to mobilize!
Activate Your Membership Today!
What do workers at Starbucks, Amazon, Apple, and university students have in common? They are all trying to come together to organize their workplaces for better pay, greater worker dignity, and a real voice at work. Thankfully at the CSU, Support Staff already have an amazing union - the CSU Employees Union. If you are newly hired or just have not taken the time to learn more about CSUEU, watch this video and activate your membership today!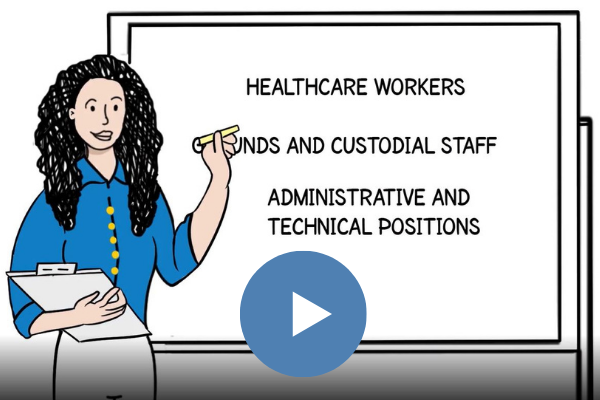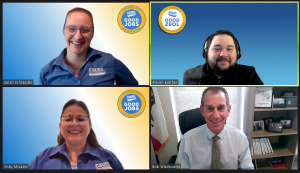 The Legislative Committee strongly encourages you to get involved! See your chapter leadership/steward to see what you can do to help fund our study! 
CSUEU Legislative Committee leadership Vicky McLeod and Sarah Schraeder spent two days this week (April 19-20) racing from Zoom to Zoom meeting with key legislators and legislative staff in support of our salary study. 
This is just one part of our lobby plan that involves writing legislatures as well as having campus visits with local legislative leaders in the areas.
Celebrating Autism Acceptance Month!
April is Autism Acceptance Month! To honor the occasion, CSUEU's Disability Constituency Group is holding a Zoom event, "Nothing About Us Without Us!" Neurodiversity, Disability Activism, and the Union. View flyer.
The event will be held twice: April 27 at 12 p.m. - 1 p.m. (register here), and April 28 at 6 p.m. - 7 p.m. (register here). 
Together, we'll explore:
•    What are Autism Acceptance and neurodiversity? Why do they matter to unions?
•    What struggles and values do neurodiversity and union activists share? What can they learn from one another? 
•    How can we become union disability activists? 
The event is open to the public, so please encourage students to attend.
Kaiser Permanente is offering an online workshop in June for CSU employees nearing retirement to learn about how Medicare works. View flyer for dates.

If you're about to retire, you'll  learn about:
• How your coverage can change when you retire
• What to do if you plan to keep working after age 65
The war in Ukraine poses immediate threat to children. UNICEF is working to scale up life-saving support for children and their families. Please consider donating if you can.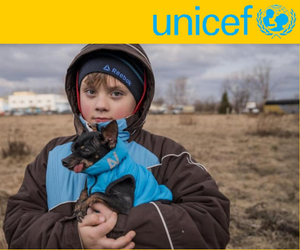 CSUEU | 120 K Street, 2nd Floor, Sacramento, CA 95814