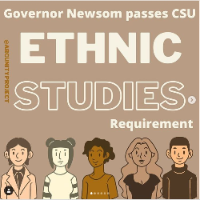 Governor Gavin Newsom signed legislation this week requiring CSU students to take an ethnic studies course to graduate. The CSUEU-supported measure – AB 1460 – represents the first change to the CSU general education curriculum in more than 40 years. 
The new law overrides an ethnic studies policy adopted at the last CSU Board of Trustees meeting which many deemed to be inadequate.
Studies show that students of all ethnic backgrounds benefit academically and socially from taking ethnic studies, and that these courses help build a more inclusive multicultural democracy. 
"This bill reflects 50 years of students, faculty, and community advocacy for curriculum reflective of and responsive to our diverse state," said the bill's author Assemblymember Dr. Shirley Weber (San Diego - D). 
The CSU is required to offer ethnic studies courses beginning in 2021-22, and requires students to complete at least one three-unit ethnic studies course beginning in 2024-25 to earn an undergraduate degree. The new requirement does not increase the number of units a student would need to graduate.
The ethnic studies curriculum would be developed by the CSU Council on Ethnic Studies and the Academic Senate.
After two years of work, a task force formed by CSU Chancellor Timothy White issued a 2016 report recommending that ethnic studies be a required course. However, in his written response to the report, Chancellor White notified campuses that the report "was expected to inform – but not constrain – the regular planning process of each campus" and the report's recommendation was never implemented.