Covered in face masks and waving picket signs, hundreds of union members from more than a dozen CSUEU Chapters took to the streets of Fullerton, San Francisco, and Sonoma on Saturday, Oct. 3 - joined by students and labor allies - to protest layoffs at the CSU.
Watch the video of our tri-city informational pickets and car caravan actions here. 
Stationed at prominent intersections and even above a freeway overpass, the noisy protests drew media coverage and helped raise our message to the public: Why is the CSU laying off some 300 support staff in the middle of a pandemic even as it holds a $1.5 billion surplus?
Some state leaders have the same question. Assemblymember Kevin McCarty (D-Sacramento), who has oversight over the state's subcommittee on education finance, wrote to Chancellor Timothy White last week expressing concern and asked for additional information regarding the CSU's finances.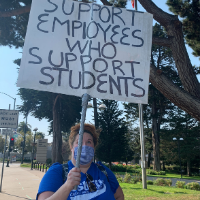 "Layoffs can have dramatic and disastrous consequences for individuals, families and communities, and I'm sure you would agree they should come as a last resort," Assemblymember McCarty wrote. "I am writing to request more information about how CSU is using its significant reserves to address cost pressures and if there are any other steps campuses are taking to avert layoffs."
Read Assemblymember McCarty's letter here. 
A big Thank You to our sister unions for joining us on the picket line: the Academic Professionals of California, Teamsters, California Faculty Association, Union of American Physicians and Dentists, and last but never least, our tremendous CSU students! >> Media coverage: Spectrum News | Daily Titan