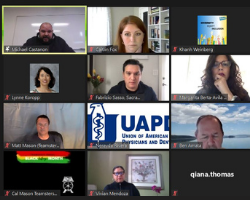 If you are a custodian, groundskeeper or healthcare assistant, you most likely cannot telework during the pandemic. But with schools still closed, what can you do if you must be home to provide care to dependents? Labor groups representing support staff and faculty at CSU Sacramento held a Zoom press conference on Tuesday, March 2, 2021 to share stories of workers struggling during the pandemic.
"Sac State and the whole CSU system have a chance to step up and set an example and take care of their employees," said CSUEU Chapter President Caity Fox, who faciliated the event. "Our employees shouldn't have to make the tough decisions  between taking care of their kids and having to lose money. We have employees who make $30,000 a year who are now taking unpaid leave so they can care for their children."
CSUEU members Qiana Thomas, a Housekeeper; Michael Castañon, a Groundskeeper; and Pam Robertson, a Clinical Assistant, shared the difficulties of juggling on-site work with supervising young children who are learning from home. Watch the recording of the session.
Many thanks to our labor Brothers and Sisters who joined us from the CFA Sacramento, Union of American Physicians and Dentists, Teamsters 2010, and Central Labor Council.