Click here if you are having trouble viewing this message.
State Assembly Subcommittee Considers Funding Salary Study's Recommendations
Committee Chair Kevin McCarty (D-Sacramento) and Assemblymember Patrick O'Donnell (D-Long Beach) voice support for increasing funding for the CSU
Following astonishing news that California has a record $99 billion budget surplus, the state Assembly Budget Subcommittee on Education Finance heard a presentation from state and CSU finance officials this week (May 17) regarding the latest proposed budget allocation for the CSU. 
The CSU is seeking $381 million more in state funding to boost its operating budget; $287 million in ongoing funding to implement recommendations of a staff salary study; and $900 million one-time funding to repair and modernize University infrastructure.
In light of the CSU's stated needs, Assemblymember McCarty, who is chair of the committee, questioned why the state's May budget proposal contained less funding for the CSU than originally outlined in January, even as California has amassed an unprecedented surplus.
"You would think we would have more money for the CSU, but there is less money. How do you reconcile the fact that we have these needs ... and the investment to the CSU goes down?"
Our Union is partnering with the CSU, along with Teamsters 2010, APC and other CSU unions, in asking for state funding so that the CSU can lift up stagnant wages, as identified in the salary study. 
We have a supporter in Assemblymember O'Donnell, who said at the hearing:  "I support the salary study," and added that providing funding for the study's recommendations "would be a very good thing."
What's Next
Great job to all who signed a postcard and sent an email to Gov. Newsom and their district legislators these past weeks. Now we need Speaker Anthony Rendon to hear from us to ensure additional CSU funding will be included in the Assembly state budget, which is still being worked on. You can send a quick email to Speaker Rendon by clicking on a pre-written message on this web form.
Next Monday (May 23), CSUEU members join Teamsters 2010 and other CSU unions at the state Capitol to lobby that the salary study's recommendations be included in the state budget. We will also deliver the thousands of signed #FundOurFuture postcards that have poured in across campuses. 
#GoodJobs Rallies Draw Key State and University Leaders 
The list of supporters for the #FundOurFuture campaign is growing every day.

 Senate President pro Tempore Toni G. Atkins (D-San Diego) and Senate Budget & Fiscal Committee Chair Nancy Skinner (D-Berkeley): Budget proposal last month included boosting higher-education funding. State Senator John Laird (D-Santa Cruz) was also an early supporter for more funding to address salary inequities at the CSU.

Assemblymember Jacqui Irwin (D-Thousand Oaks) joined CSUEU chapter leaders at Channel Islands to learn more about pay gaps at the CSU.

  Sen. Rosilicie Ochoa Bogh (R-Yucaipa) joined CSUEU San Bernardino for a #GoodJobs rally as did Sen. Connie Leyva (D-Chino) at Cal Poly Pomona - both events on May 13. 

Lt. Gov. Eleni Kounalakis came to CSU Fullerton and stood with workers last week voicing unequivocal support for CSU Support Staff, along with Student Trustee Maria Linares.
Also... a huge UNION shout-out to all the CSU presidents who have attended our postcard-signing events or sent a letter of support: Cal Poly Pomona President Soraya M. Coley; CSU San Bernardino President Tomás D. Morales; CSU Fullerton President Fram Virjee; CSU Fresno President Saúl Jiménez-Sandoval, and San Francisco State University President Lynn Mahoney. 

For Autism Acceptance Month in April, CSUEU's Disability Constituency Group and the Longmore Institute on Disability held a webinar on the neurodiversity movement and unions. The session, led by CSUEU Steward Katie Murphy (SFSU), was held on two different days and drew great enthusiasm from participants. A recording is now posted online. This webinar covered issues such as: What are autism acceptance and neurodiversity and why do they matter to unions?
CSUEU and CSU in April reached a Memorandum of Understanding on the salary study with the parties agreeing that they will negotiate over the implementation of the study, but not negotiate the findings of the study. Both CSU and the unions agree that the salary study should be implemented as written and that they will negotiate annual salary increases through the regular bargaining process. Once the state Legislature and Gov. Gavin Newsom approve funding for the study, we will negotiate with the CSU the issue of annual raises and any retroactive pay or bonuses for the two years Support Staff went without a raise. 
Union Condemns Massacre in Buffalo, N.Y.
Along with the rest of the nation, we are devastated by the horrific massacre that took the lives of 10 individuals this weekend in Buffalo, New York. We send our deepest condolences to the families that will never be whole again. The Justice Department is investigating the shooting, perpetrated by an 18-year-old white supremacist who drove more than 200 miles to a supermarket to gun down Black people on a Saturday afternoon. >> Full union statement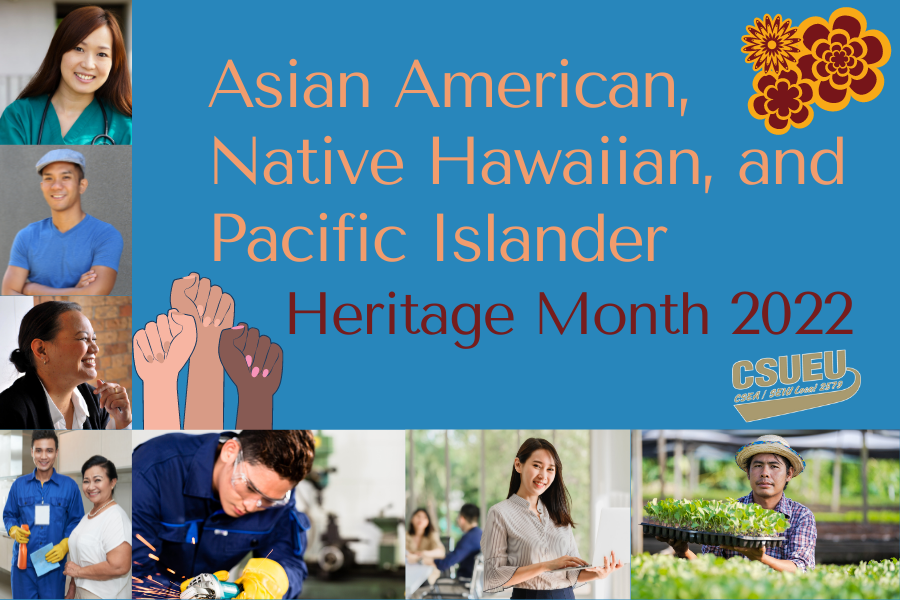 CSUEU is proud to count Asian American and Pacific Islander workers at the CSU as members and leaders of our Union family who provide vital services to students and the entire CSU community.
The month-long celebration recognizes the historical and cultural contributions of individuals and groups of Asian and Pacific Islander descent to the United States.
Read more from National Public Radio. 
CSUEU's Asian Pacific Islander Constituency Group meets today (May 18) at 6 p.m.
>> More information to join the Zoom meeting.
CSUEU | 120 K Street, 2nd Floor, Sacramento, CA 95814