Click here if you are having trouble viewing this message.
Workers and Media Shine Harsh Light on CSU Stagnant Wages
Labor Coalition Bands Together for Equitable Pay
No other way to spin it, the California State University's branding of itself as "The Most Consequential Public University System in the Nation" took a beating this week.
During the hour-long public comments session of the Board of Trustees meeting in Long Beach on Tuesday, March 21, a seemingly endless line of workers and students lectured the Board about its failure to properly invest in staff and students.
The next day, while trustees deliberated committee reports about personnel and finances, The Sacramento Bee published a four-page cover story warning about a "labor uprising" within the CSU.
Its lead: "Close to 60,000 workers across the California State University's 23 campuses are banding together to demand higher wages, better benefits and improved working conditions."
With multiple unions already in bargaining or heading into negotiations, the CSU's strategy will be to divide. That is not going to happen, said Catherine Hutchinson, CSUEU President, as quoted in The Bee. "We're going to have each other's backs." 
Bargaining Team Reminds Trustees Workers Power the University
CSUEU members were well-represented by our Bargaining Team leaders who made good use of their one-minute opportunity each to address the Board of Trustees in a public forum. A recording of the trustees' March 20-23 meeting can be viewed here.
Tessy Reese, Chair for Bargaining Unit 2 (Health Care Support), shared that an online petition in support of Athletic Trainers drew more than 2,000 signatures, one-third from students. The petition demands the CSU bargain in good faith and address exploitative working conditions. Students spoke with passion - and gratitude - for the Trainers who provide them not only physical, but also mental and emotional support.
Don Moreno, Vice Chair for Bargaining Unit 5 (Operations), said: "When an organization sees staff turnover in the double digits, it is time to ask the hard question: 'Is it me or is it them?' In this case, the problem is you - the CSU."
Jessica Westbay, Vice President for Representation, said: "The CSU has repackaged the status quo calling it steps which as presented will continue the inequities of the existing broken salary system." >> Read full speeches
Bargaining Survey Highlight: Remote Work
More than 4,200 members answered the Bargaining Survey question: Do you do any work remotely?
YES: 54%
NO: 46%
In all, 3 in 10 of the CSUEU-represented staff said they worked at least 25% of the time remotely.
Of those who do perform some remote work, nearly 6 in 10 (58%) said at least 25% of their work was remote.
How Many Student Assistants Do You Work With?
Great news! With your help, student assistants collected THOUSANDS of Union Authorization cards and are getting ready to file for their union election!
But before they file for their election, they need to know how many student assistants work at each campus and department. If your department hires student assistants or has recently, tell us how many here.
Student Assistants are EXCITED to form their union! Check out what Lameeha Islam, a Student Assistant at CSU San Marcos, is excited about. 

 Good job to all who joined in "Sticker Up" Day this week as we teamed up with Teamsters 2010! Our theme was "Steps Now, Strike Ready" and it means exactly that. The next bargaining session is April 5. We count on the Bargaining Team to bargain and they count on members to bring up the heat. Stay tuned!

 If you want to expand your leadership skills and become more involved with the Union, now is your chance. CSUEU is accepting applications to our next stewards cohort training which will be held April 1 from 9:30 a.m. to 5 p.m. via Zoom. Please apply here: https://forms.gle/myYi7yfjtpfqpmzq9

 The CSU's handling of sexual misconduct complaints could be subject to increased oversight under SB 808, a new bill introduced by Democratic state Sen. Bill Dodd. CSUEU is a co-sponsor. The bill would require campus presidents and vice presidents or vice chancellors to sign off on settlement agreements in sexual harassment cases. As reported by USA Today, the CSU "also would have to report to the Legislature the outcomes of sexual harassment complaints received by each of the 23 campuses and the chancellor's office and the lengths of any investigations."
Legislation is urgently needed "to expose CSU leaders and end a university culture of sweeping allegations of egregious violations under the rug," said CSUEU President Catherine Hutchinson. "The collective CSU leadership, including the chancellor, campus presidents, and campus provosts, has a very long way to go to earn the trust of students, staff and faculty, given the history of documented sexual harassment cases committed by top administrators who face no real consequences."

 More than 230 SEIU members who work in early learning, K-12 schools and higher education joined Rep. Pramilla Jayapal in a virtual Town Hall last weekend (March 18) to demand a fully funded, accessible and equitable education and care system, from birth to graduation. 
In attendance was our very own CSUEU member Casandra Horner, Administrative Support Coordinator, Cal Poly Pomona. Casandra was selected to read a portion of SEIU's Higher Education Council vision.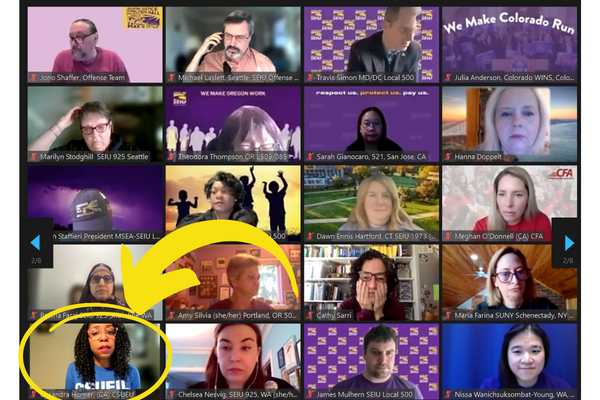 It's member activists like Casandra who show up and make the UNION difference!
Connect With Us
CSUEU | 910 K Street, Sacramento, CA 95814