Click here if you are having trouble viewing this message.
Union Polling Shows Majority of CSUEU Members Supports Building Resources to Win Steps
Dues Vote ends 4 p.m., Tuesday, May 9
Lots of May Day chants and rallies across campuses this week, and it's exciting to see CSUEU members joining with our other labor siblings as we show the CSU we are growing our #CSULaborNation to be #StrikeReady!!
One key step toward our "Path to Power" plan is amassing the necessary resources to win STEPS this year. CSUEU members are voting through May 9 whether to adjust the dues rate from 1% to 1.2%.
 
The Board of Directors recommends a YES VOTE!
A recent poll of 1,000 union members showed 87% believe we need more union resources and the majority supports a dues adjustment.
For those who haven't voted, here are three important reasons to vote YES:
1. We currently contribute only 1% toward union dues now, which is the lowest of any public Local within SEIU (Service Employees International Union).
2. We have mounting public support for our fight for STEPS, and we need to show that we are ready to invest in ourselves and our future.
3. We want more union resources – such as more Staff and Labor Reps (LRRs) – which means increasing the Union's revenue stream.  
Hiring additional LRRs means members will have increased staffing resources as we mobilize for a potential strike.
If you plan to VOTE YES - and want to see who else is on the VOTE YES TEAM - check out our Vote Yes poster!
Our Moment to Support Student Workers
I took this week off work to talk to Student Assistants here at CSUN, and get them signed on union cards. More than 60 members and staff from 8 sibling unions, SEIU State Council, and CSUEU took time away from their jobs to support Student Assistants organizing this year.
Why? Because this is largest non-academic student worker organizing campaign in US history. 
Like many CSUEU members, I was a Student Assistant. I did the work of staff for much less. But today, many student workers rely on food pantries, or don't know how they'll pay rent next month.
CSU can't campaign against students – so they are DELAYING the process to DISCOURAGE progress.
Students leave campus in a matter of days. They can't wait and neither can we.
We can walk into the biggest bargaining fight we've had with CSU without Student Workers – or we can walk arm-in-arm with 10,000 of our closest colleagues as they build power alongside us.
Student assistants will sign their union card, we just have to find them and talk to them. As staff, our knowledge of campus, experience as union members, and relationships are invaluable to finding them. 
In the next week – each of us needs to use this flyer to sign every student assistant we know on their union card. 
In Solidarity,
Yvonne Carrillo, CSUEU Member
College of Extended Learning, CSUN
Campuses Rally on May Day Fighting for Salary Reform
Marching and chanting - with maybe a few bursts of enthusiastic hollering - thousands of CSU workers made some good noise this May Day, one of the most coordinated and boisterous gatherings of labor groups from the CSU in recent years.
In celebration of International Workers' Day, members from CSUEU, Teamsters 2010, California Faculty Association, Academic Professionals of California, and others came together at more than a dozen campuses to demand a resolution to the longstanding problem of stagnant pay at the CSU. 
View photos from the day and campus media coverage.
The fight for Salary Steps continues! The next bargaining session is May 9 at the Office of the Chancellor. CSUEU members are encouraged to "Wear Blue" that day to support our Bargaining Team. 
The CSUEU Political Activities Committee is also always looking for member support! Joining PAC is easy - and necessary - if we want to have resources to elect pro-worker legislators. Take a minute to contribute to PAC today.
Cal Poly Pomona Custodians Win Through Organizing
Last fall, a group of Custodians at Cal Poly Pomona were frustrated with understaffing, workload capacity, lack of salary increases and equity issues. (Sound familiar?!)  Chapter President Hector Maciel set up a meeting with 25 Custodians and the team began strategizing.
Supported by Union resources and research data, the Custodians were able to show salary comparisons with neighboring CSU campus Fullerton. Armed with the pay inequity information, a group of Custodians filed for In-Range Progression. 
What did this band of organized union workers win? >> Read more


 CSUEU is accepting applications for our next cohort for Stewards Training on June 23. What is a steward? Stewards are the vital life stream of any local union. Stewards promote fairness, justice, and equality at their campuses by:
Invigorating, encouraging, and inspiring members

Keeping members informed of union activities

Representing their worksite in appropriate meetings of the union

Responsible for representing the interests of members

Organizing a strong and united campus

Orienting new members

Enforcing contracts and workers' rights on the job
Complete the form to apply to become a Union Steward.

 Long Beach Chapter Vice-President Roger Maxim volunteers with the non-profit California Organic Gardening Club to address food insecurity at CSU Long Beach. The Club raised Pole and Bush Bean flats of plants intended to provide nourishment to the underserved in the campus community. Union leaders like Roger truly walk the talk when we say "We are in this together!"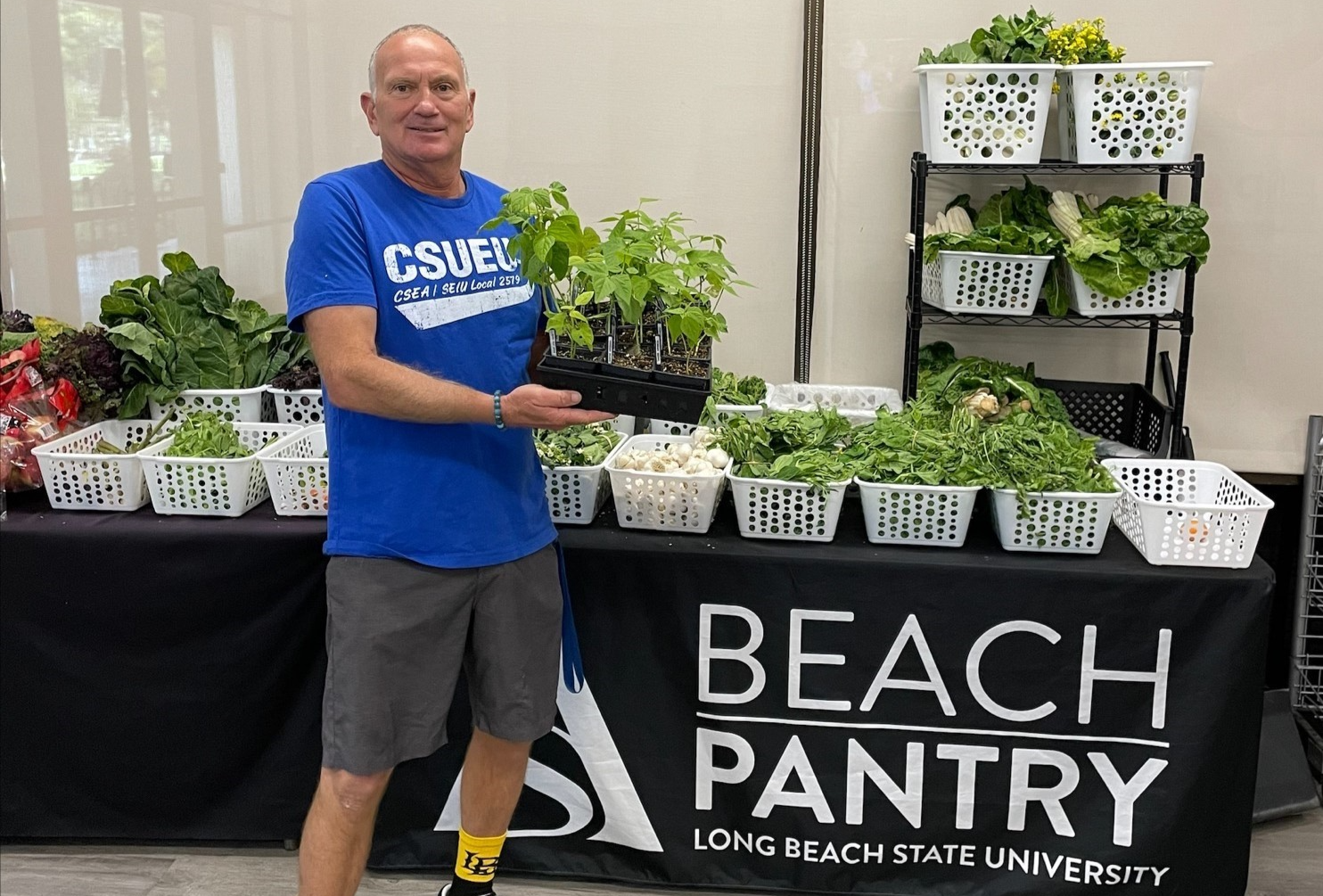 Connect With Us
CSUEU | 910 K Street, Sacramento, CA 95814