Click here if you are having trouble viewing this message.
Bargaining Update
CSU Negotiators Finally Acknowledge Classifications Need Updating
CSUEU's Bargaining Team met with the CSU's negotiating team on Tuesday (Oct. 3) ready to hear management's counter offer. More than 80 CSUEU member observers were on hand to keep the employer honest!
Management presented us with a new concept: a 5% general salary increase (GSI) in year 1, a 5% GSI in year 2, and in year 3 adjusting the new salary scales up by 3.5% and then slotting people into their target step. 
To be very clear: Steps will happen this contracting cycle, which is what CSUEU members have been fighting for since the unilateral removal of steps in the mid-90s.

In a major concession, the CSU finally acknowledged that classifications need to be updated to reflect the work our members are doing and to implement the steps, and agreed to hire a third-party consulting firm to expedite this process.
We have identified more than 8,500 members who have classifications that need to be reviewed and updated, including classifications that were identified by the Mercer salary study. This is a WIN for us that the CSU admitted it is important to address misclassification to ensure that employees reach their correct landing point with the implementation of steps. 

Our Bargaining Team spent Wednesday reviewing the CSU counter language and preparing our counter. We are ready for the Oct. 10  bargaining at the Chancellor's Office, followed by an Oct. 11 session at CSU Long Beach. 
Student Assistants Make Headlines Announcing They Are on their Way to Vote to Join CSUEU Members
Our announcement this week that 19,000 Student Assistants won state approval to advance to a union vote drew extensive media coverage. Participating in the Oct. 3 Zoom press conference were: Student Assistants Diana Perez, CSU Los Angeles, and Leah Baker, CSU Monterey Bay; State Superintendent of Public Instruction Tony Thurmond; Starbucks worker Travis Hiett; CSUEU President Catherine Hutchinson; and Executive Director Jim Philliou.
The news generated widespread online support, such as California Labor Federation, which tweeted: "INCREDIBLE NEWS: This is the largest non-academic student worker campaign in U.S. HISTORY. It's time for @calstate to Let Student Assistants Vote!"
A More Perfect Union tweeted to its quarter-of-a-million followers: "Student-workers at California State University campuses have won the right to vote on forming a union. They would form the largest undergraduate student-worker union in U.S. history."
One powerful show of support was the letter from the CA Legislative Progressive Caucus, cautioning Chancellor Mildred García that "delaying the process to enter into an election will only harm this invaluable workforce that deserves to be supported."
What's next? While we negotiate the process for the upcoming election, Staff and Student Assistants will continue to build our power! CSUEU members can download this flyer, post at your worksite, and encourage Student Assistants to scan the QR code to take the What Do You Want to Fight For survey.
(Thanks, Declan Galli, for your flyer design! We *know* Student Assistants are talented.)
Labor Champion Laphonza Butler Appointed to be CA's Next U.S. Senator
In a huge win for workers, Gov. Gavin Newsome has appointed long-time labor champion Laphonza Butler to represent Californians in the U.S. Senate. The appointment fills the seat held by Sen. Dianne Feinstein, who passed on Sept. 29.
"Laphonza Butler is a strong, passionate leader, whose life's work has centered on building power for workers, whether their work is in fast food or home care," said CSUEU President Catherine Hutchinson. "She will be an outstanding U.S. Senator defending workers' rights and our democracy."
Laphonza Butler's prior roles include serving as President of SEIU 2015, where she led the fight for fair wages and respect for home care workers. As president of SEIU California, she helped win the first statewide $15 an hour minimum wage in the nation.
State Legislative Hearing Grills CSU Leadership for Title IX Program Failures
For CSUEU members, holding CSU management accountable means securing a fair contract with an equitable salary steps structure AND demanding that the CSU respects the recent state labor board decision to let 19,000 Student Assistants vote to join CSUEU.
Our accountability campaign doesn't end there. We also continuously monitor the institution's practice of handling of sexual harassment and workplace abuses through its Title IX program, which protects against discrimination based on sex (including sexual harassment) in schools with federal funding.
CSUEU Vice President for Finance Terry Wilson testified at a state legislative hearing in August where lawmakers called out University leadership for not taking adequate steps to protect students and staff despite years of documented problems. 
CSU's top executives did not put up a defense. In fact, Vice Chancellor Leora Freedman offered a stark admission:
"That's what our community says to us also. Why should we believe that you're committed to changing? We have to rebuild trust with our community and with you. I'm committed to do this, our institution is, but I understand if don't believe that yet."
View the hearing and read the Fresno Bee coverage: "Sexual harassment scandals caused major trust issues for Fresno State and CSU, unions say." 
"CSUEU members are unique witnesses on campuses. Not only are we targets of harassment ourselves, but our members also perform the intake reports on harassment. So our members both witness and personally experience the issues of the Title IX system. The state audit of the CSU's Title IX procedures confirms the problems that our members have been observing and been experiencing for years."
- Terry Wilson, CSUEU Vice President for Finance
 Aug. 31, 2023 Legislative Hearing
Gov. Newsom Signs Pro-Worker Bills
That Help Californians

 California workers's guaranteed sick days will increase from from three to five per year, after Gov. Newsom signed SB 616 into law this week. This benefit applies to workers not covered by a collective bargaining agreement.

 Last week, Gov. Newsom signed AB 1228 (Fast Food Franchisor Responsibility Act), raising the minimum wage for fast food workers to $20. California's fast food workers now earn the the highest guaranteed base in the industry nationwide.
Labor unions strongly advocated for both pieces of legislation. Support the power of unions by joining CSUEU if you are not yet a member!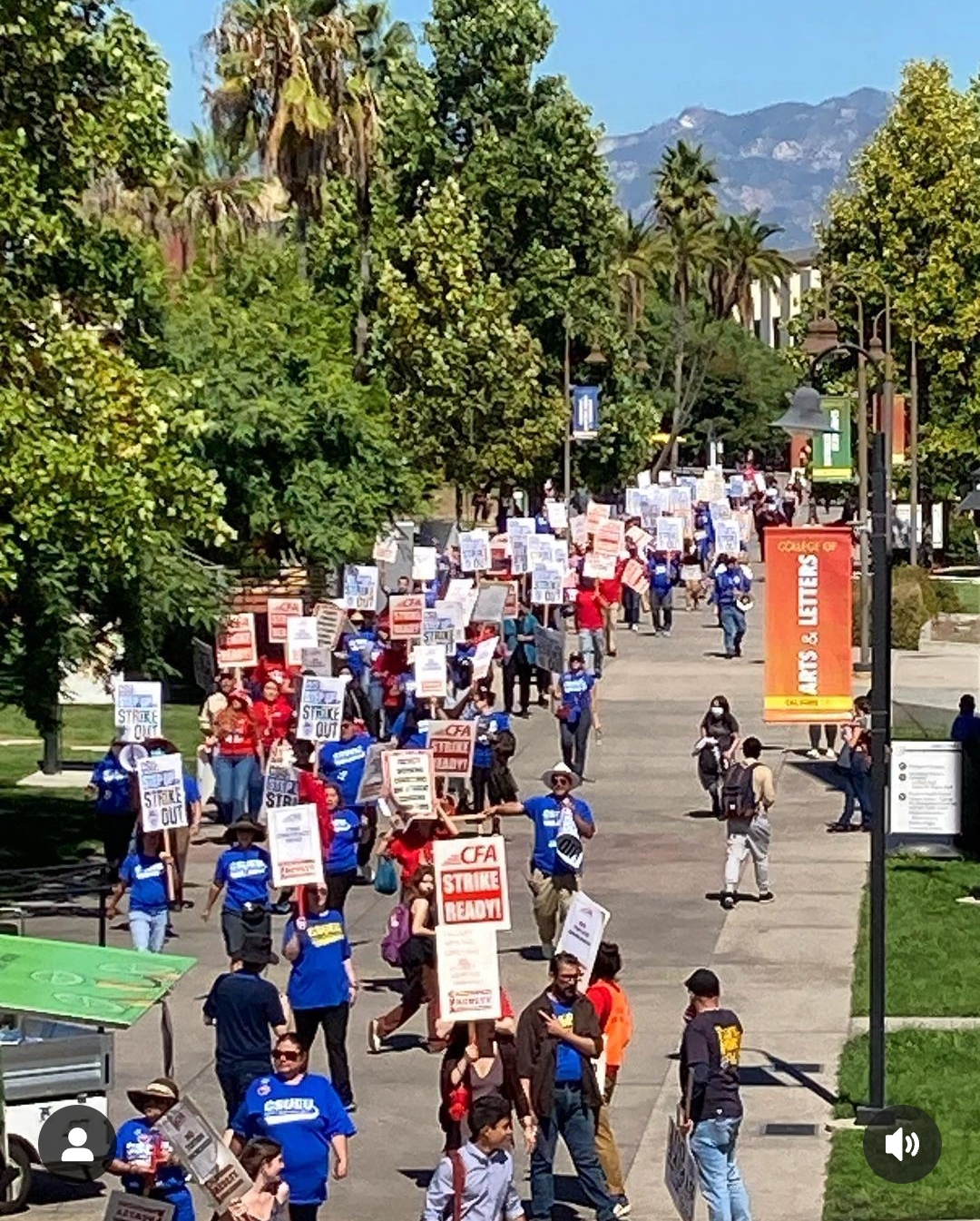 More than 350 staff, faculty, and students rallied in solidarity on Thursday (Oct. 4) sending a message to the Chancellor's Office that we not only march to support each other as a union family at CSU Los Angeles, but we deserve to have a livable wage as California State University employees. Union High Five to participants: CSUEU Chapter 311 LA, CFA LA Chapter, Teamsters Local 2010, APC LA , ASE-UAW, and SQE-CSULA.
Connect With Us
CSUEU | 910 K Street, Sacramento, CA 95814